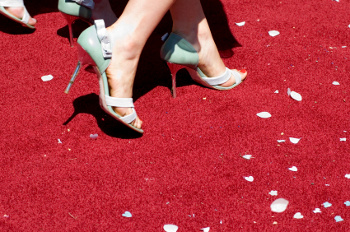 Even a partial list of body image problems that a child may run up against can be petrifying—anorexia nervosa, bulimia, body dysmorphic disorder, severe calorie restriction, low self esteem, self harm. High fashion and Hollywood aren't fully to blame for the prevalence of these problems—that would be a tough case to argue—but they certainly haven't helped. Lindsay Lohan's prison-entry information is a good example of a bad example.
According to psychologist Irene Rubaum-Keller of the Huffington Post, Lohan's physique is influential, and her booking sheet proves she is still too thin, at 118 pounds. She's been thinner, too.
Think this sort of thing makes little impression on impressionable youth? Google "thinspiration" or "thinspo," and buckle up. You'll see some familiar figures, no doubt, many of them from the big screen and more on the catwalk. Public figures have been influencing the American figure since Wallis Simpson (or possibly Coco Chanel) said, "You can never be too thin or too rich," if not before that.
You can be too thin. Among eating disorders—among all mental disorders, in fact—anorexia is the deadliest, killing an estimated one-fifth of the 1 in 111.1 women and 1 in 333.3 men who have ever been diagnosed with it. Bulimia is similarly common: 1 in 66.67 women and 1 in 200 men have ever been diagnosed with the disorder.
It's clear that the pressure on young women to be thin and "healthy" is enormous. (On men, too, but few would argue that the American male standard of beauty hinges as completely on weight.) And it's grown. As an illustration, here are the Body Mass Indices of a handful of female sex symbols and starlets, organized into a timeline.
It does not depict a straight descent into starvation, nor is it a complete list of anything. Consider it a diagram of a trend.
October 1933. TIME magazine praises Mae West's full figure in I'm No Angel, if nothing else about the movie. According to the magazine, she developed her curves doing acrobatic vaudeville, and "likes diamonds, rare beefsteaks, and racehorses." It goes on to add, cheekily, that "the Central Association of Obstetricians & Gynecologists congratulated Mae West for popularizing plump female figures, called her style 'a boon to motherhood.'" The reader is even treated to her dimensions: "height 5 ft. 5 in., weight 120 lb., waist 26 in., hips 36 in., bust 36 in." She has a Body Mass Index of 20—in the normal range, according to the CDC.
1946. A young Netherlander named Audrey Hepburn-Ruston diets down from 150 lbs (which, after the privations of war, she attained by "eating everything in sight" as compensation) to 110 lbs, in order to study ballet in London. There, her teacher assures her that this weight, coupled with her height (5' 7", relatively tall in her estimation) would actually prevent her from becoming a prima ballerina. She decides to pursue acting, as Audrey Hepburn. Her BMI is 17.2, underweight.
December 1953. Marilyn Monroe appears on the cover, and as the centerfold, of the first issue of Playboy magazine. Her three-page write-up begins with her measurements; even then, the dispute over them raged. They "have been reported as 35" 24" 37", 37 ½" 25" 37 ½" and 37 ½" 23" 37". Sometimes she's 5' 4" tall and weighs 120 pounds, but she may shift unexpectedly to 5' 5 ½" and weigh in at 118." Her BMI is thus either 20.6 or 19.3, both normal today. Even during a late-life depression, when her weight was a supposed 140 lbs, she was still in the normal range. According to Playboy, Monroe is "the juiciest morsel to come out of the California hills since the discovery of the navel orange."
February 1966. A 16-year-old model named Lesley Hornby, recently rechristened "Twiggy," is featured in the British Daily Express as "The Face of '66." A waifish 91 lbs for her 5' 6", her BMI at that time is 14.7, well into the underweight range. (The World Health Organization considers anything below 16 to be "Severe Thinness," essentially starvation.) Today, she is more full-figured, recalls that her weight in the '60s was her natural adolescent weight, and denounces Hollywood starlets as "the worst perpetrators," whose "concave chests and bony arms are terrifying."
February 1983. Musician Karen Carpenter dies at 32 from complications of anorexia. Though she'd weighed a normal 145 lbs for her 5' 4" frame as a teenager, and 120 as a young adult, Carpenter was secretly uncomfortable with her figure. By 1981, two years before her death, she weighed 80 pounds, with a BMI of 13.7, indicating severe starvation—she was on a so-called water diet at the time.
November 1984. Madonna releases Like a Virgin, which ultimately will go "double diamond" with sales of 21 million. She is 5' 4" and weighs about 115 lbs. BMI: a normal 19.7. Two and a half decades later, her obsessive exercising will be cited as one of the causes of her divorce from director Guy Ritchie.
February 2000. Addressing the media furor over her extreme postpartum thinness,musician/model Victoria Beckham says, "I'm not anorexic, I'm not bulimic and I'm not a skeleton. I'm seven and a half stone," or 105 lbs. At 5' 6", her 16.9 BMI is well underweight. A year later, she will admit to suffering from anorexia.
Finally, some recent arrests:
June 2007. Paris Hilton, socialite, serves 22 days in jail for speeding, DUI, driving with a suspended license, and violating probation. Her booking sheet records her height and weight as 5' 8", 115 lbs. BMI: 17.5, underweight.
August 2007. Convicted on a DUI charge, Nicole Richie spends 82 minutes in jail. Her booking sheet lists her as 5' 1" and 85 lbs. With a BMI of 16.1, under even Victoria Beckham's lowest, the starlet is significantly underweight. Eerily echoing Beckham, she'd told People magazine the year previously, "I am not anorexic. I am not bulimic. I do not have an eating disorder," though she'd agreed to being far too thin. She would later check into a treatment facility, for hypoglycemia and an "inability to put on weight."
July 2010. Lindsay Lohan serves time for violating probation. Her booking sheet puts her at 5' 6", 118 lbs. That makes her BMI 18.7, right at the cusp of being underweight.
HuffPo's Rubaum-Keller notes that models like Crystal Renn, whose BMI is similar to Marilyn Monroe's late in life (around 24), are now officially "plus-size." The euphemism is hard to mistake for a compliment.